I had a few days owed to me after working in a week-end and missus and terrorist are in SA visiting her folks so I was free to go somewhere different. Somewhere that the answer to these wife questions would be "no": Air conditioning? Tar road? Double bed? Somewhere the wife would immediately hands down refuse to venture. And be within striking distance of Otjiwarongo (where I work). Van Zyls was the first choice but sanity prevailed as it would have been a tight trip with no room for error and I had to be back at work after 4 days.
So decided on Brandberg, a geologist's wet dream. So I set off with the aim of a) Buying Brandberg quartz crystals b) see the desert elephants c) circumnavigate the Brandberg and visit the geology hotspots d) relax and drink cold beer and read a book with a camp fire. So packed the Troll with tent, braaigrid and fridge full of beer. Then stopped to get some more beer and crisps.
Day1) Otjiwarongo to Ugab River Terrace Lodge. Aim to wake up to this view:
Mission successful.
Then I missioned off to Khorixas... blinked and almost missed it so headed the White Lady Lodge where I would be camping for the next 3 nights. Along the way I spied a track that left the main road and it was going in the general direction of the camp and cut off a massive detour. Knowing the river is dry that would not be an obstacle. Had lots of fun following a network of tracks and eventually made it to teh river and drive down the dry river bed to the camp. I got there ahead of schedule so went to see the white lady of the brandberg.
And the guide there told me there was time to see the elephants as he knew where they were today.
And we came across this on the way. The driver had thought he could get across. The sand is deceptive and I was driving in low range when we came across the truck. Anyway we were off to see ellies so I promised we would be back as there was some digging to do and times was few.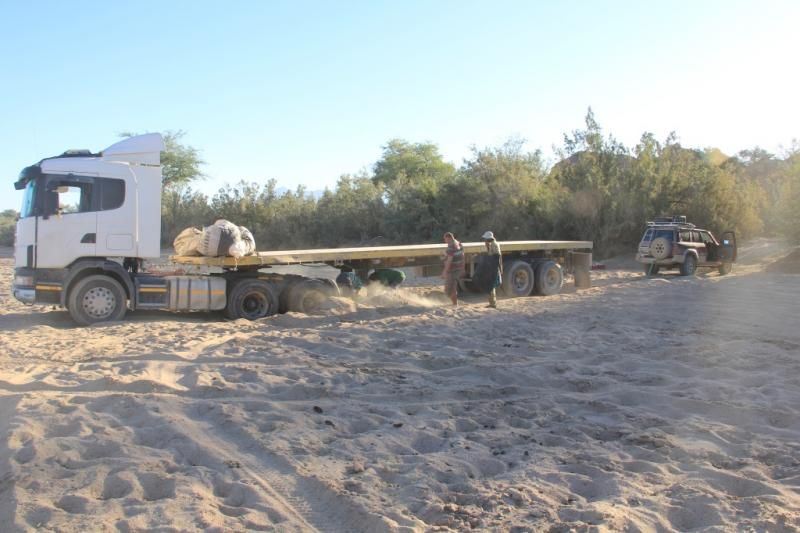 Saw the ellies and then rushed back to help the truckie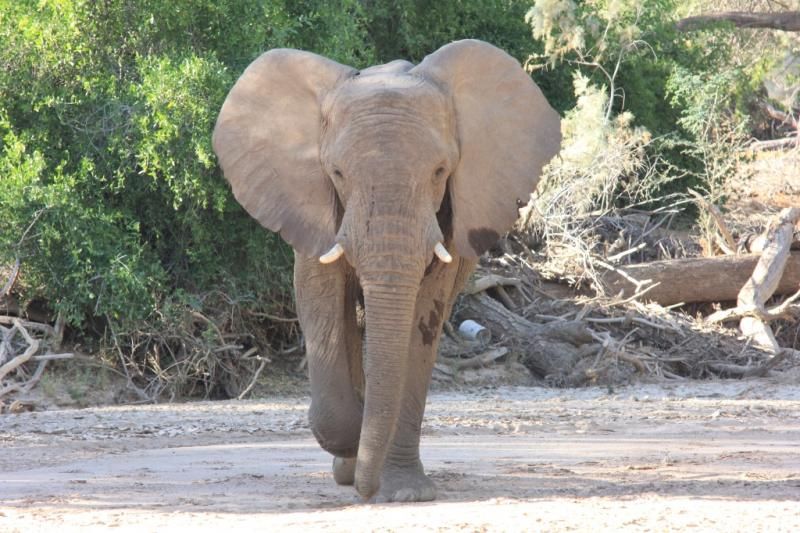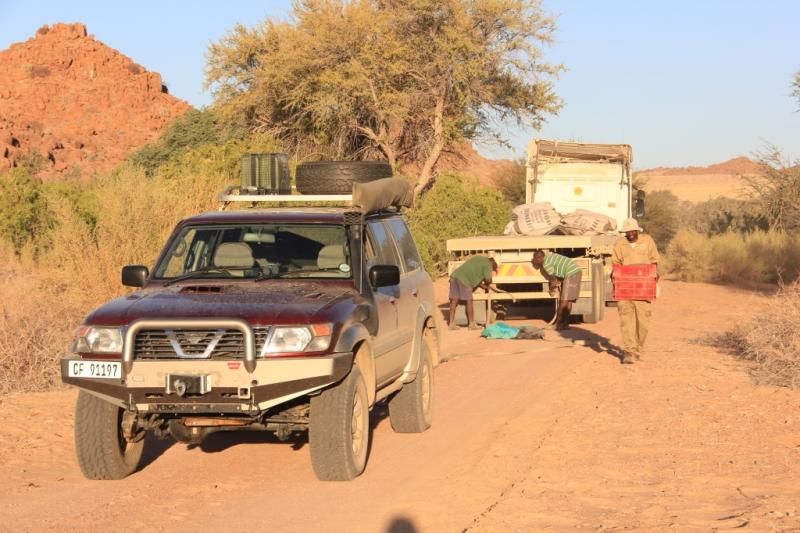 All in a days work. Troll had praise heaped on her from every corner. And I must say the recovery was fairly effortless. The truckie stuffed up the first pull by turning his wheels but the second had him right out of the river bed.
I was stuffed by then and still had to drop the guide off... check in, pitch a tent and braai.
Next day i circumnavigated the Brandberg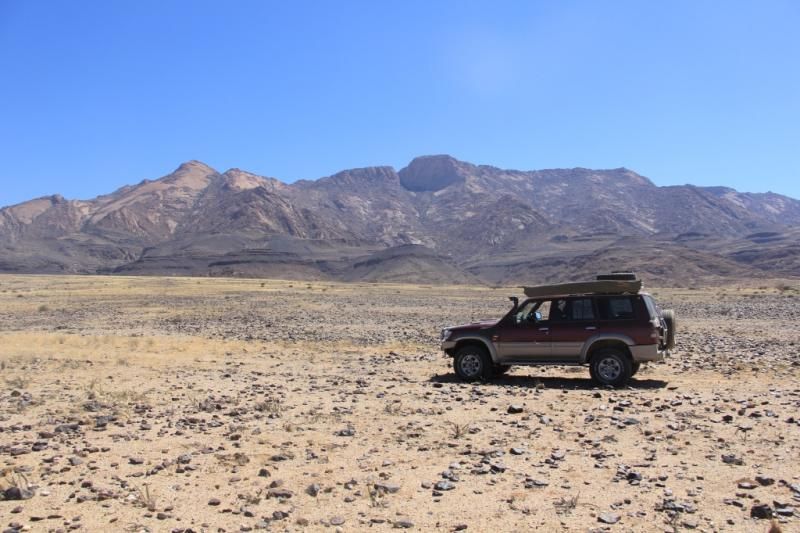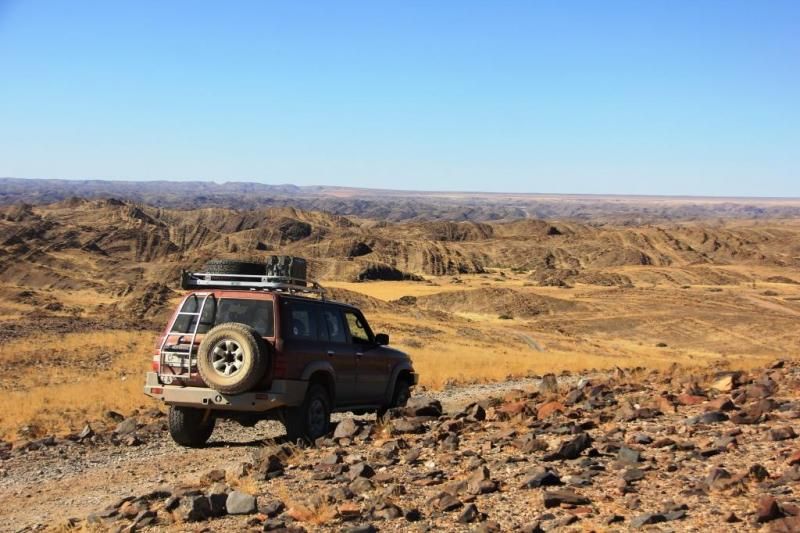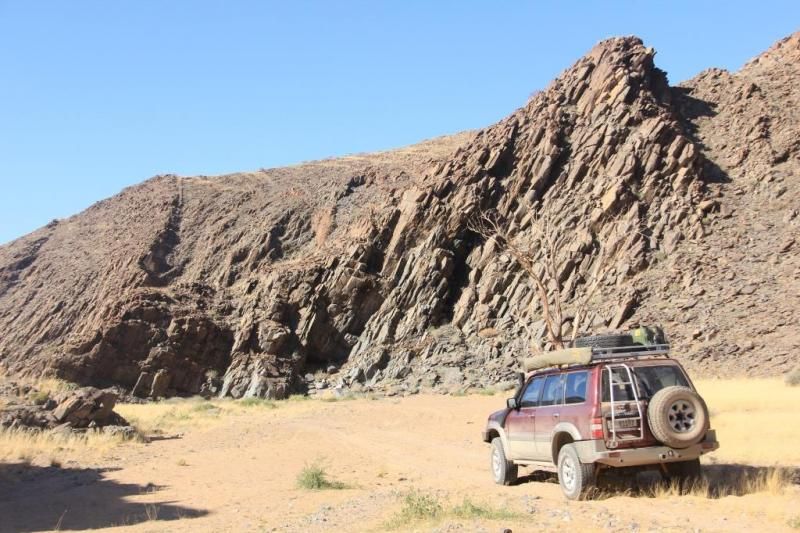 Stopping off at the small scale miners to buy some Brandberg Crystals. Superb quality and very good prices. But to get there you have to travel on the most corrugated road in Namibia.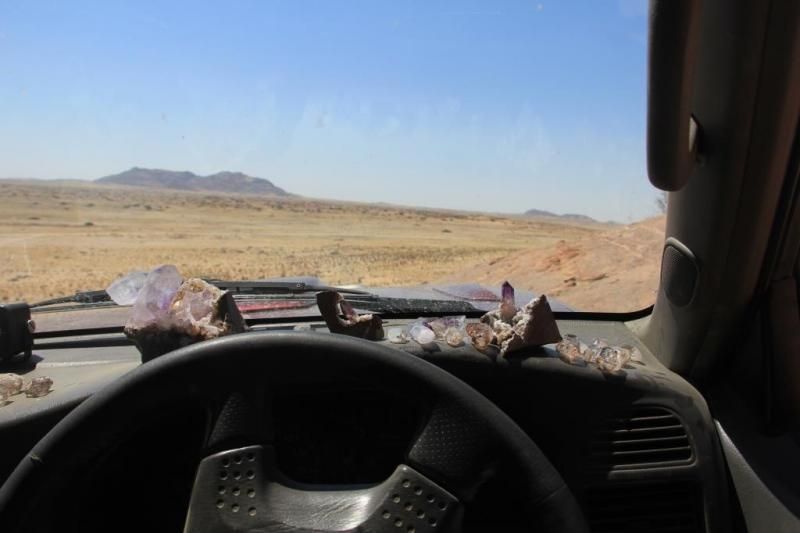 While I was at the camp someone pionted to a pool of oil under the troll...
Anyway we had a look and couldn't see where it was coming from... and I was feeling crowded with some very well meaning hands and eyes all over my troll. I decided to get out of dodge and find a quiet spot to diagnose and within striking distance of the miners if I needed help. Turns out the flexible hose to teh front oil cooler had chaffed up against a braket on the chassis. After some minor panic I set about a patch. 2 x hose clamps around the effected area. My silicon sealant I usually have in the box was missing. But to my utter and very relived surprise the two hose clamps fixed the issue first go and there was not even a drop of oil from the damaged hose.
I was so confident I even took the long way back to camp.
The next day was involved in pottering around a granite outcrop. Having lunch and a few beers looking out over the plains and doing some rock climbing... in the troll.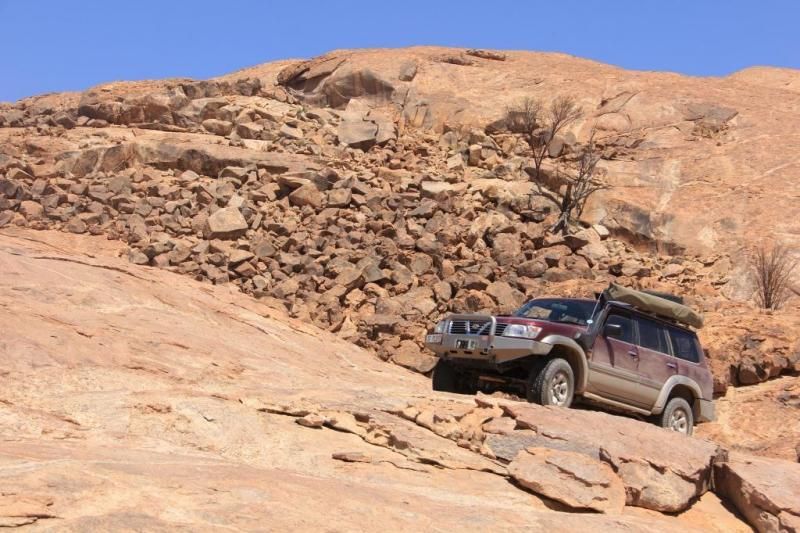 When I got back to camp I had a few beers around to pool and a swim. Then decided I was sure I know where the elephants would be during the heat of the afternoon. I set off down the river to an area with a big pool and shaded by a small koppie. I had seen it the first day and though t if i was an elephant I would be here in the afternoon. It was pushing 43 degrees at that point. So there were expected, about 2 km from where I last saw them.

And lastly why Brandberg is called Brandberg...
Aan die Brand sonop: