Search found 56 matches
by biggles

20 Jun 2014 16:42
This is my review of a Bugatti Veyron: My old mans hilux is higher, even a 1978 BMW 5 series has a bigger boot, a hino truck has better forward visibility, a Tata has better ground clearance and even my grans nissan micra can carry more people!! And it has no cup-holders. Bad Bugatti... how could yo...
by biggles

01 Oct 2014 15:43
My Dad is coming up from Cape Town to Windhoek on the 15th October. I am sure he would be happy to lug a seatbelt up. Let me know if you don't find anything sooner.
by biggles

08 Oct 2014 09:08
I expect you would want to have the sheets slide back into an enclosure otherwise they would just collect sand between them and add a few kgs and those slide rails do not like getting sand in them. That would also solve your high speed issue. Wind is a big killer of these things and I doubt a slide ...
by biggles

10 Sep 2014 13:47
I had a few days owed to me after working in a week-end and missus and terrorist are in SA visiting her folks so I was free to go somewhere different. Somewhere that the answer to these wife questions would be "no": Air conditioning? Tar road? Double bed? Somewhere the wife would immediately hands d...
by biggles

03 Feb 2015 08:12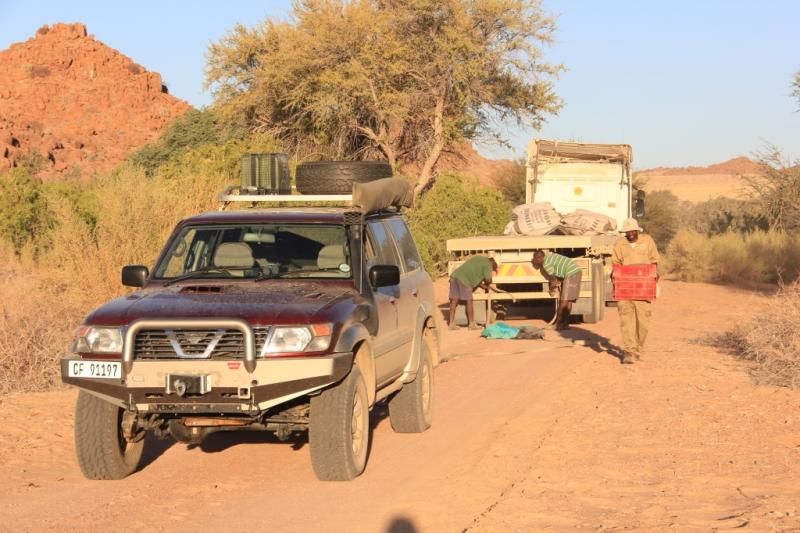 Proof that it actually pulled it out.
by biggles

24 Feb 2015 20:44
OK, here are the detail as requested. Micks HID projector retrofits micksretrofits(at)netspace.net.au I suggest you browse his spot on Patrol 4x4 Australia: I went the whole hog with angles and the projectors all fitted into facelift style clear headlights and indicators to match. This all came with...
by biggles

10 Dec 2015 08:45
Just thought I would share some pics of the troll on holiday. She towed a HEAVY van up two passes, kept her passengers comfortable and cool the whole way. She then went a played in the berg and made a stage 4 obstacle seem like a climbing the drive way. Then took us all home again. For those that ar...
by biggles

08 Feb 2016 08:39
We had a fantastic day at Honingkip. IR_eddie did really well and creamed all the obsticles on a wet day and his first time out rock climbing!! Not sure if its the Patrol or driver. :thumbup: For those of you that have not been to Honingklip it is a very well set out and marked trail. All the tough ...
by biggles

12 Jan 2017 08:36
There is a garage at Gweta. There is also a much better road from Kubu directly north to the tar road between Nata and Gweta. This road runs on top of a ridge almost all the way, and the only risk of getting stuck is between the vet fence and Kubu, whereas the direct route runs across pans for a la...